CPT Support Services
PMI Drilling Services division utilizes technology to consistently reduce downtime in marine fleets and drilling rigs, with a perpetual focus on waste minimization.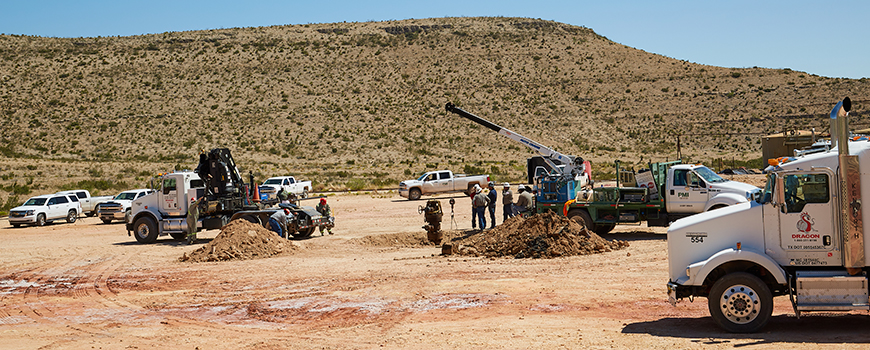 change all of this
PMI's Drilling Cleaning Services Division consistently reduces downtime in marine fleets for its customers due to the efficiency of our Tank Cleaning Machines. While the typical conventional mud tank cleaning or competitors' automated cleaning systems run multiple days – especially on larger deepwater vessels – our MudHog process typically shrinks the timeline to 24 - 48 hours. In turn, this creates increased efficiency in the logistics and transportation groups of our customers while reducing their operating costs. Other quantifiable savings are realized in the MudHog process through waste reduction during cleaning operations.
Offshore Supply Vessel Tank Cleaning –
MudHog Automated System
Our automated Mud Tank Cleaning System is an innovative process for cleaning mud tanks on marine supply vessels.
MudHog Automated System advantages include:
• Reduced port time / downtime (typical cleaning job 24-48 hours)
• Reduced wash water and flushing water sent for waste disposal
• Reduced extensive man-hours in confined space
Rig Cleaning System
PMI has the experience, expertise and technology to provide customers with the highest quality of both conventional and automated rig cleaning services. We focus on lowering rig cost through reduction of downtime and waste minimization, with a goal to help expedite the demobilization of the rig.
Solids Control
• Multiple innovative waste management solutions to reduce drill cuttings haul-off and disposal volumes, while recovering drilling fluid for reuse in both onshore and offshore applications.
• Processes are engineered to meet and exceed drilling expectations with contingency plans proposed to eliminate rig non-productive time (NPT).
• Our annular cuttings box feed inlet design, used in conjunction with our DNV cuttings boxes, eliminates the need for flipping cuttings box lids on zero discharge projects offshore, allowing for increased Rates of Penetration (ROP) and drastically reducing the potential for HSE incidents.
° Drilling waste management
° Zero discharge
° Cuttings dryers to exceed NPDES requirements
° Cuttings conveyance vacuums& screw conveyors
° Centrifuges & shakers
° 100, 50, & 30 HP explosion proof rig vacuums
° Explosion proof, diesel-powered pressure washers & screen cleaners
Dry Bulk Tank Cleaning
PMI's diverse fleet of mobile air movers provide our customers with a choice in waste containerization and disposal.
• Guzzler NX – recovers a wide range of materials including barite and cement
• Vector VecLoader – discharges recovered materials directly into a supersack, vacuum box
Why Choose Us
We help the world's leading companies drive predictable revenue and profitability growth by optimizing sales organization performance.
65%
F&O has worked with
65% of the
Fortune 500
1000+
Trained over 1,000
sales professionals
worldwide
25countries
Delivered programs in
over 25 countries
10year
10 straight years as a
top sales training
company
Business plan market
Our clients tell us we are unique for a variety of
important reasons including:
Don James/Semplice – Article and News Research
VoltageBusiness – Company and Industry Research
Goovers – Company and Industry Research
IRISpace – Article and News Research
Lexos-Nexos – Company, Industry, Market Research
Plombett – Article and News Research
Pronounce – Market Analysis report "Slices"