DNV Fluid Processing Plant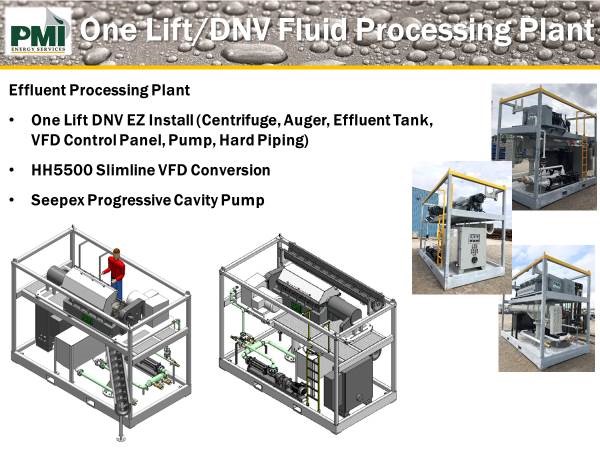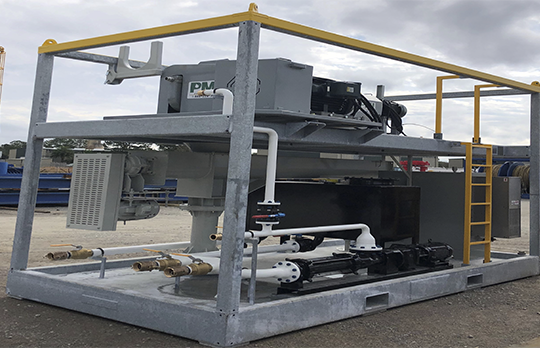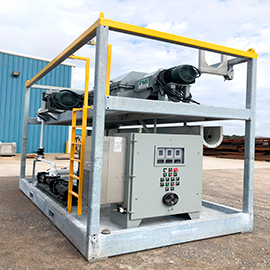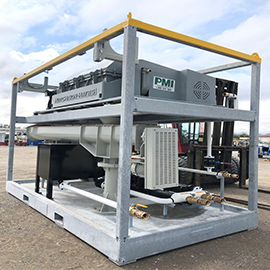 COST CUTTING TECHNOLOGY
PMI designed and built a centrifuge processing plant equipped with 16" Bowl Multi-Purpose Variable Speed Centrifuge, effluent holding tank, retractable discharge solids screw conveyor, touch screen control panel, progressive cavity pump, pollution containment ring, all hard piped and ready to go immediately once set in place. All on a one lift, space saving, DNV skid. Great for applications with limited deck space. Can be used in high speed applications to control low gravity solids in your drilling mud or low speed to reclaim barite.
Challenge
Client in SW Louisiana planned to drill a slightly deviated well to 13,570' through depleted sands with mud weights ranging from 11.0-17.7 ppg.  Accessibility to the drilling site would be limited via difficult terrain due to the location of the drilling pad. The drilling pad was small, hindering additional mud tanks for control of mud weight using dilution and barite.
Solution
PMI deployed its one lift Fluid Processing Plant to control mud weights mechanically as opposed of chemically using its multi-purpose variable speed centrifuge to remove low gravity solids and recover barite as the well properties continuously altered mud parameters.  The plant is equipped with effluent recovery/holding tank, retractable/swivel discharge auger, touch screen control panel, progressive cavity feed pump, environmental containment ring with all hard piping.
Results
By utilizing the PMI multi-purpose Fluid Processing Plant, the client was able to re-use products that were pretreated in the active mud system, saving on tens of thousands of dollars in chemical costs and reducing the physical labor needed to add chemicals to adjust drilling mud properties to meet the well's ever changing needs.
Example:  The rig was drilling with a 500 bbl oil based mud system with a mud weight of 17.2 ppg. Customer requested to cut MW to 16 ppg .  PMI processed the active system with the variable speed centrifuge for 1.5 hours to bring the MW to the targeted 16 ppg as per client's requirement.  The low gravity solids content was noted to be 15% prior to processing the mud system. After only 1.5 hours, utilizing the PMI processing plant, results were successfully verified to be 9% low gravity solids by volume.

Eliminated the use of a backhoe and operator by utilizing the processing plant's incorporated screw conveyor and piping configuration
Reduced the amount of trucking and travel to and from wellsite
Reduced the possibility of HSE issues associated with lifting and hauling sack material
Download Marketing Brochures
> D4 VCG and DNV One Lift Effluent Processing Unit
> Complete Solids Management Data Sheet
> Complete Solids Mangaement for Land
> Complete Solids Management for Offshore